Remote Knowledge Workers Are Not New
As a software professional, I have been working on distributed systems since the late 1970s. Distributed systems have the characteristic that at least part of the system is remote.
The software industry started to vigorously embrace distributed teams about 20 years ago. Distributed teams can be entirely remote or only have a few remote team members. Entirely remote teams do not need a central office. Best practices for remote workers have been refined, and many software tools exist to facilitate remote working. Progressive organizations have achieved excellent results with distributed teams.
I have been running an online software training website (ScalaCourses.com) since 2014. I built the site and wrote most of the training material, including making hundreds of videos. I also provide unlimited help to students regarding the course material. Thousands of students have learned programming via the site. All the students have been remote – I have not met most of them in person.
The equipment that I use to make instructional videos and assist students in their learning is equally well suited to enabling me to testify remotely for a case. One of the most important issues for successful remote participation is sufficient network bandwidth. Not only must the Internet connection be reliable and of sufficient bandwidth to support multiple simultaneous video streams, but the routers and computer interfaces must support this as well. I've been doing this for many years, and my setup works well.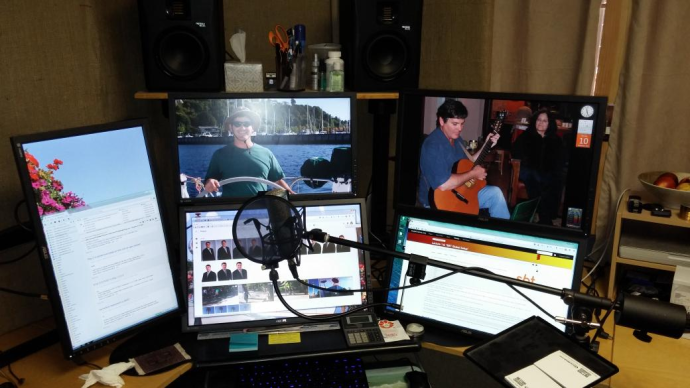 Remote Testimony
Remote experts can give testimony while seeing and being seen by all participants wherever they may be. Remote court reporters and remote attorneys can do their jobs from their preferred locations, instead of having to travel to where testimony is being given in person.
Law360 recently published some articles about the legal profession adapting to remote participation.
Federal Circuit's airing of live audio of oral arguments due to COVID-19.
Lessons from a billion-dollar case conducted entirely online. "No travel, no schlepping boxes of exhibits and briefcases into the courtroom, and no worries about finding a place for lunch."
Summary
I have given depositions, and testified in US Federal Court trials and before a European ITC tribunal regarding my opinions on software and electronic hardware issues over the past 17 years. I have witnessed how costly it can be to gather everyone together in the same space simultaneously in order for testimony to be given.
As a technology expert I can testify from my home office while maintaining the same level of preparation and professionalism as I do in person at an attorney's office or in a courtroom. Costs are lower when experts, court reporters, and attorneys do not need to travel, and the savings can be significant.
---