Published 2012-08-09.
Time to read: 1 minutes.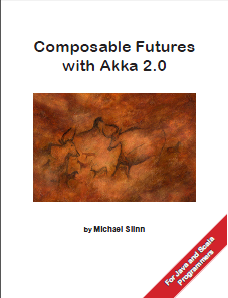 My latest book is finally complete! Composable Futures with Akka 2.0 features Java and Scala code examples. The book is available in PDF format.
Akka is hot, and Akka futures are important for creating responsive applications that can scale. This book is intended for 'the rest of us' – Java and Scala programmers who would like to quickly learn how design and integrate applications using composable futures.
I presented a preview of the book at Googleplex April 18, 2012 to the Silicon Valley Java User Group.