Published 2023-07-23.
Time to read: 3 minutes.
The ElectroVoice EVERSE 8 battery-powered PA system is probably the best in class for 2023. It is 15 inches (38 cm) tall, 10 inches (25 cm) square, and weighs 16.8 lb (7.6 kg).
I use the ElectroVoice EVERSE 8 to amplify my saxophones and guitars at jams, and for singing and playing guitar while busking. It would be great as a portable PA system for bands in small venues such as backyard and tailgate parties, however, for better coverage, you might want at least two EVERSE 8s, because they only project 100 degrees wide. An EVERSE 8 would work well at weddings for the master/mistress of ceremonies to make announcements over background music.
The Competition
Previously, I tried out the Bose S1 Pro (yuck!), the JBL Eon One Compact (blah!), and the Yamaha Stagepas 200 (not up to Yamaha's usual quality).
The Yorkville Elite EF12P sounds fantastic, but at 35 pounds it is too heavy to unless you use a vehicle to move about. For tailgate parties, the EF12P might be a better choice, since you obviously have a vehicle with space – the EF12P is considerably louder and has a more accurate low end.
EV QuickSmart mobile apps
Electrovoice's EV QuickSmart mobile apps for Android and iOS work well.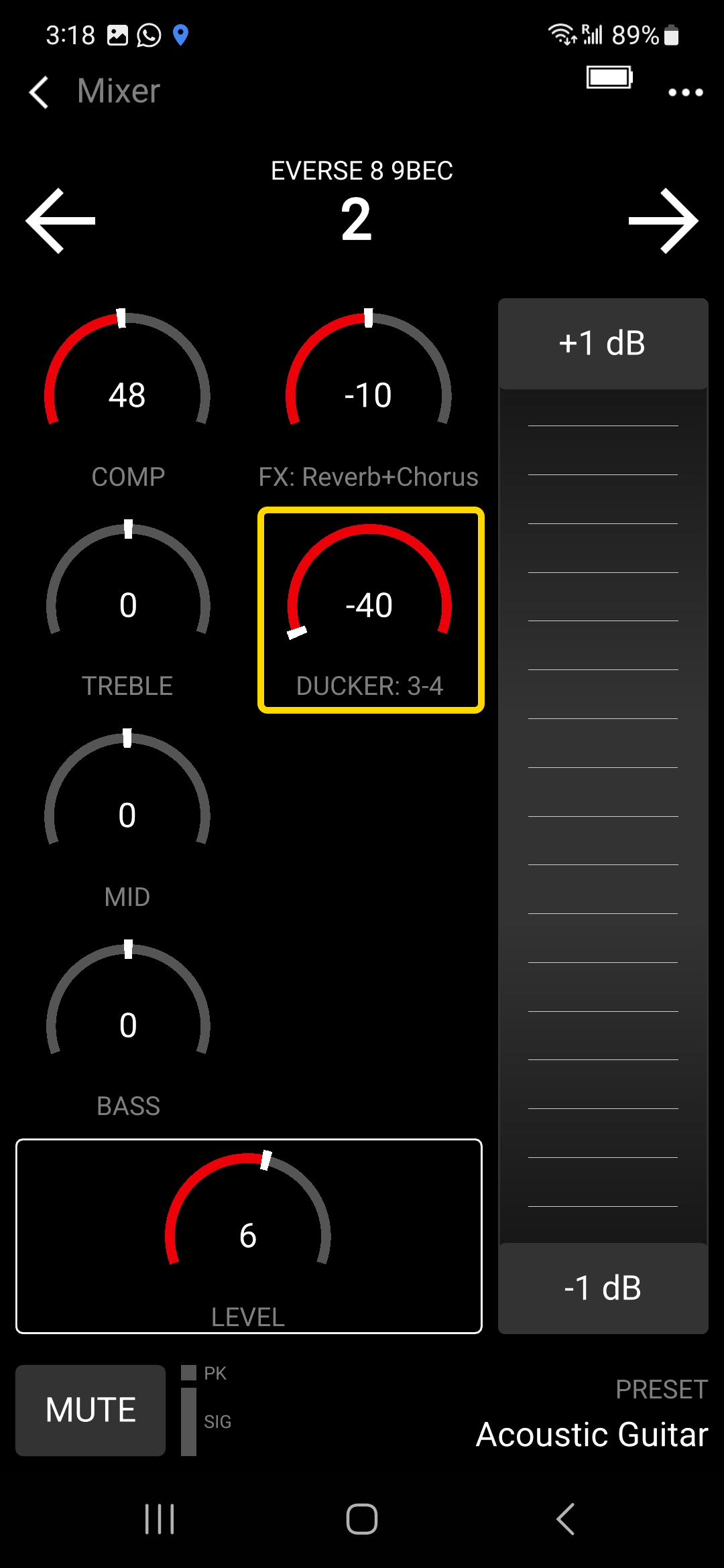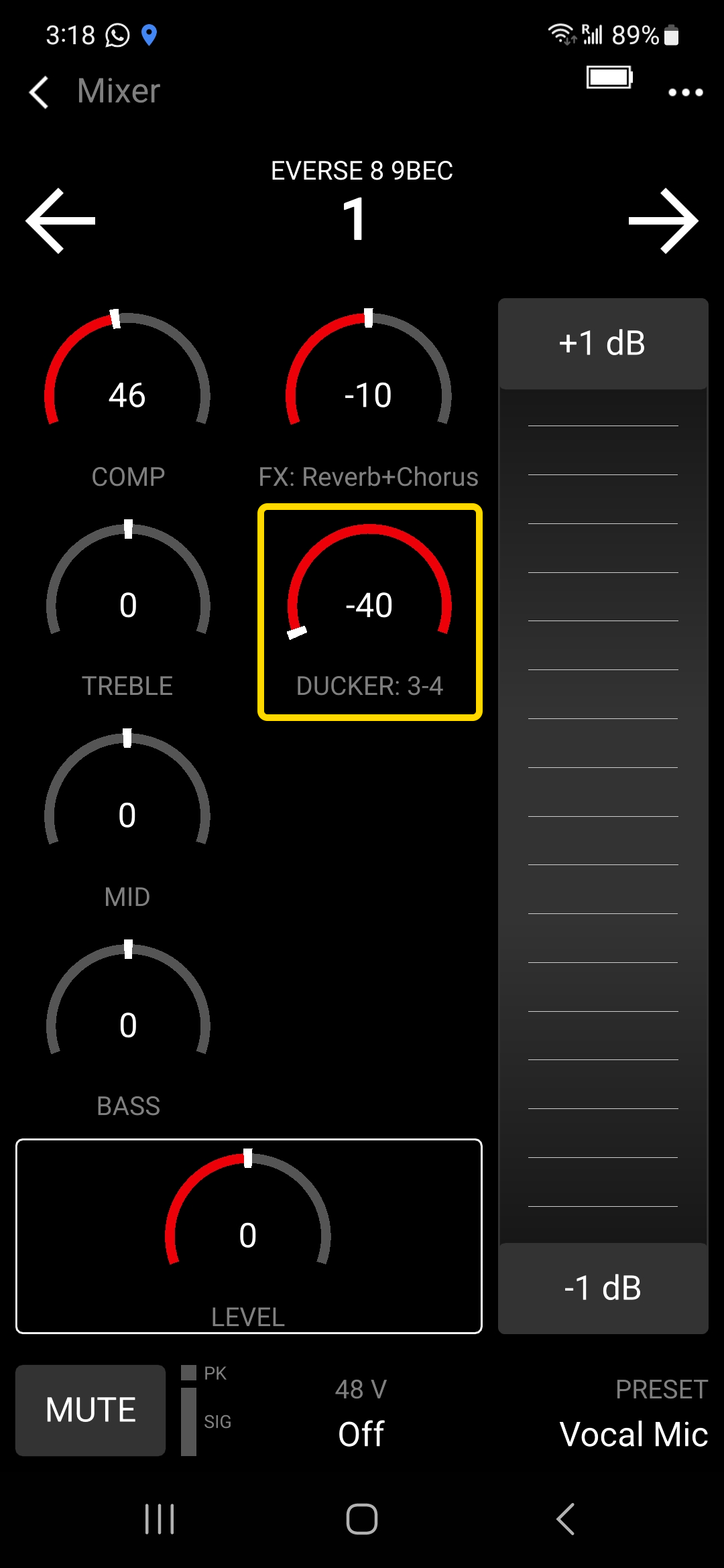 If you find that singing causes your guitar's volume to diminish, ducking is enabled. Ducking is enabled by default.
The setting for the ducking feature worked backwards from what I expected. Dial the ducking control fully counterclockwise on both channels to disable it.
The screenshots to the right show the ducking controls with yellow-orange rectangles drawn around them, one image shows channel 1, the other image shows channel 2. Ducking is disabled with these settings. For live musicians, this is what you want.
If you are an announcer or master of ceremonies, and use this PA to speak over background music, turn these dials in the other direction to enable ducking.
I have learned to bring reading glasses so I can see the app in glaring sunlight; My Samsung S22 Android phone is not bright enough for use in direct sunlight on a clear day. I expect that few mobile devices are up to the task. This can be a real problem. Suggestions, anyone?
Velcro Your Portable Rig Together!
The following images show my EVERSE 8 with a Shure GLXD6 receiver and a blue 12 VDC battery for the GLXD6. The battery provides power for days – it is overkill, but I am thinking of adding a small mixer, which will probably need power also.
Both the blue reciever battery and the receiver itself are attached with velcro to the EVERSE 8. I have two Shure GLXD1 transmitters, two GLXD6 receivers, and a variety of headsets, microphones and compatible instrument cables. Only one GLXD6 is currently attached to the EVERSE 8, however that may change.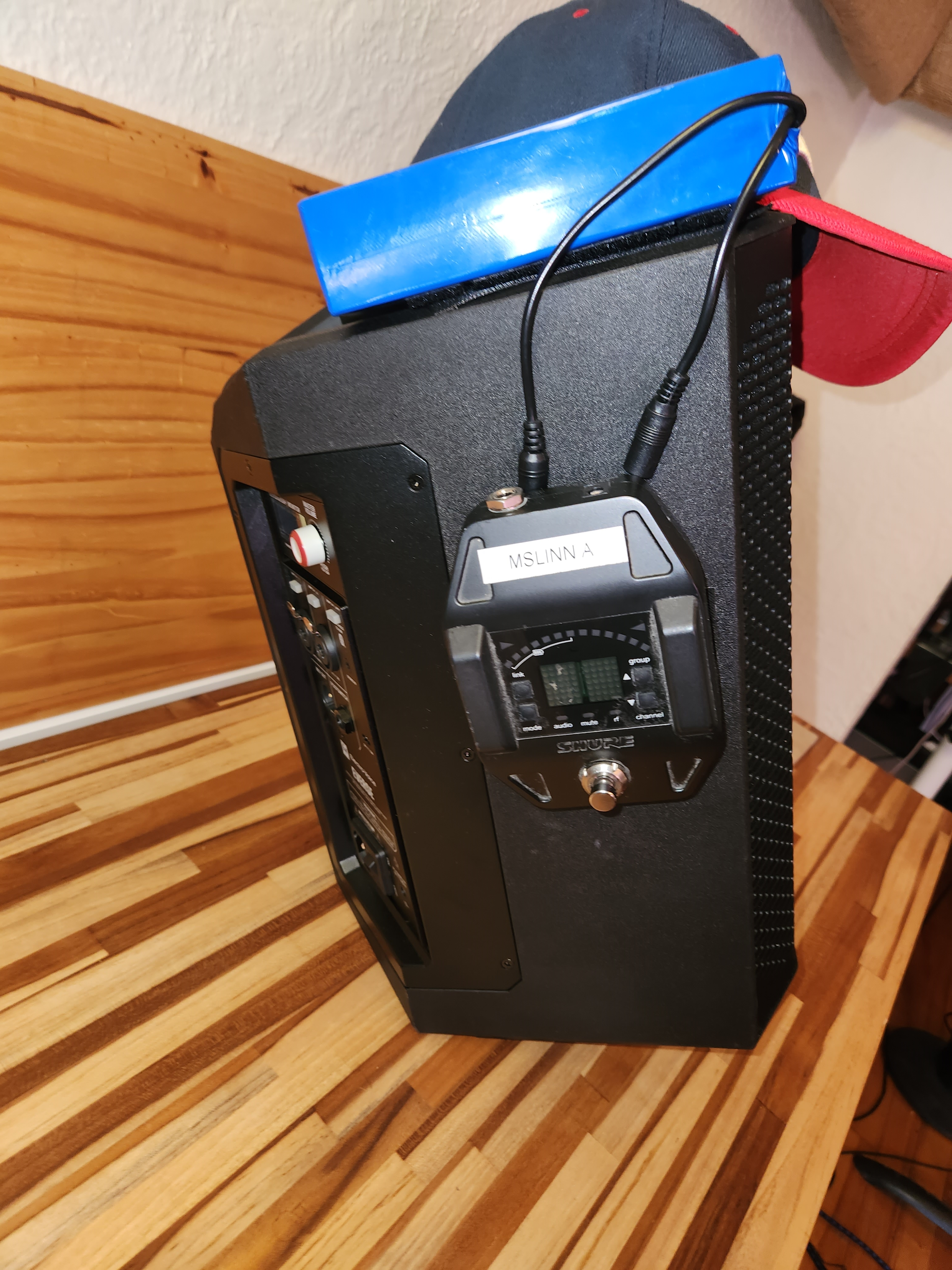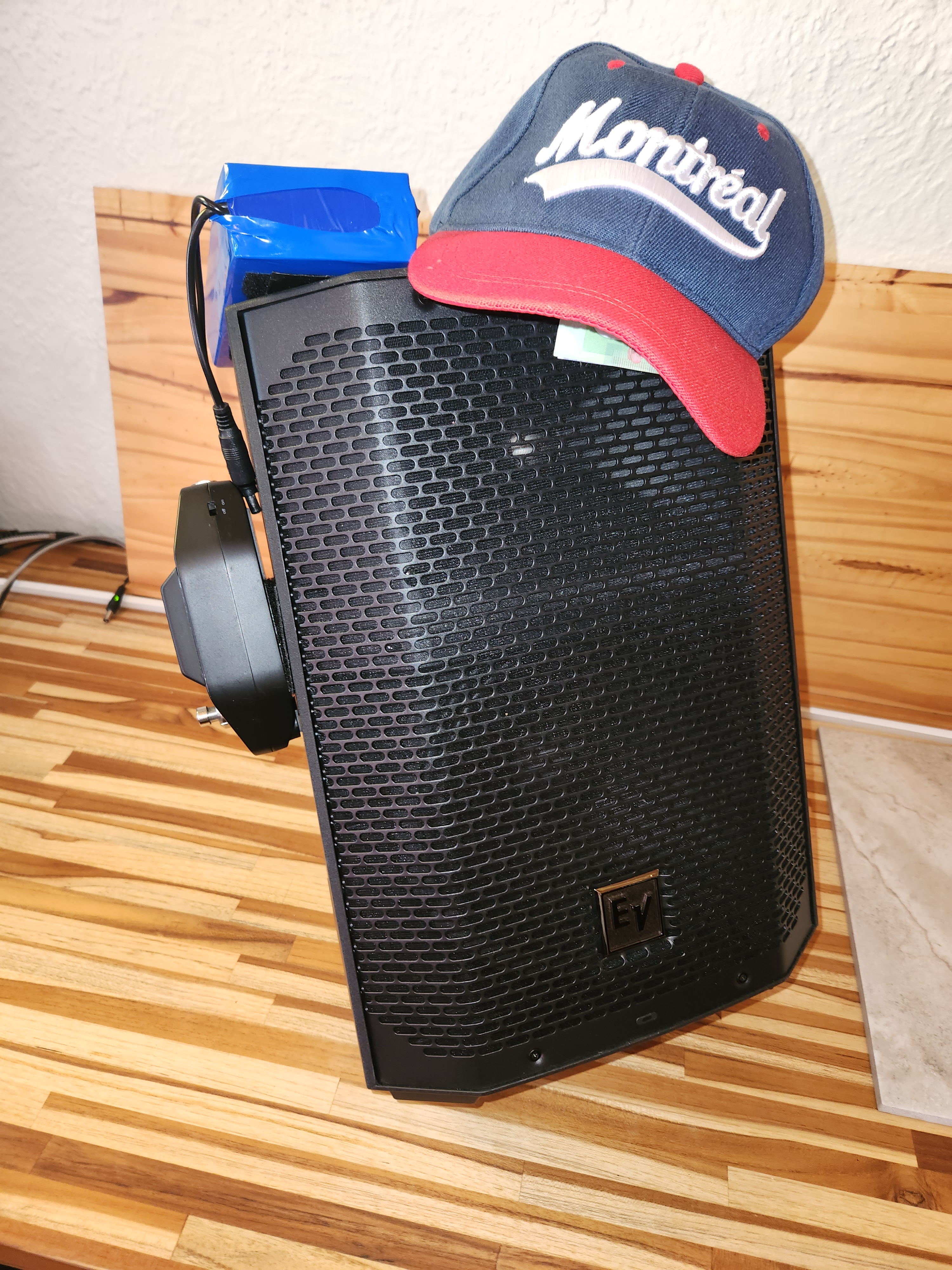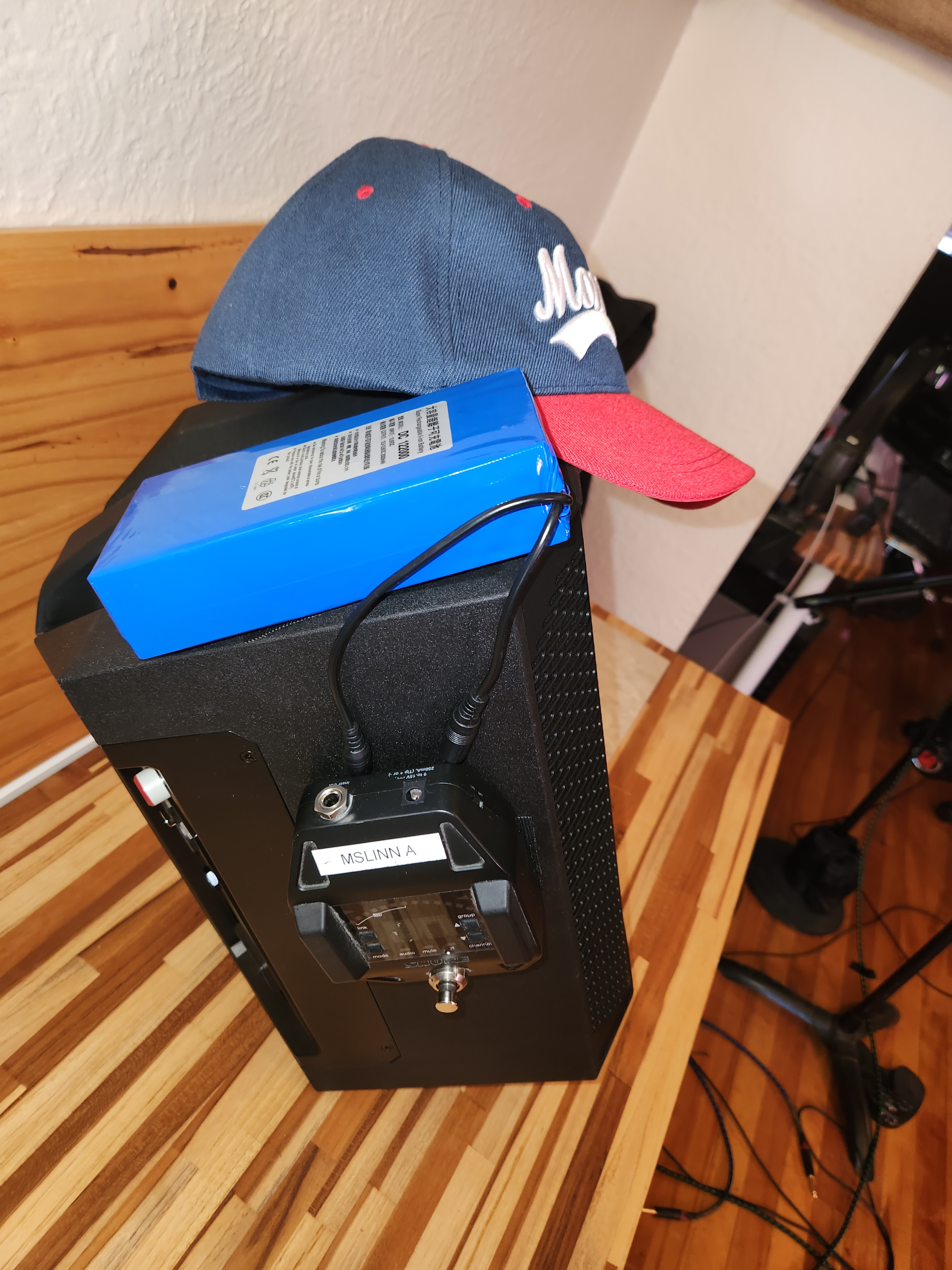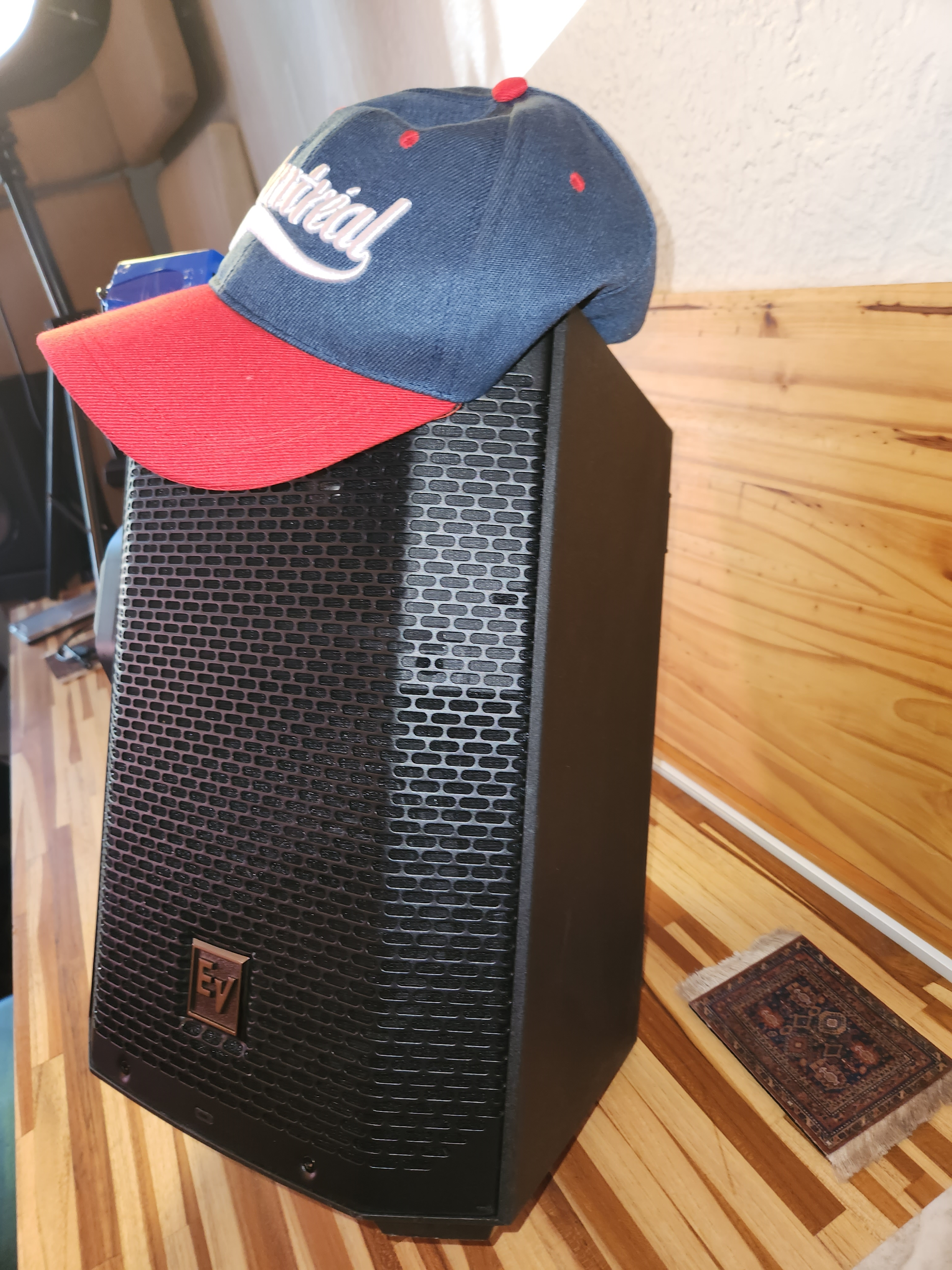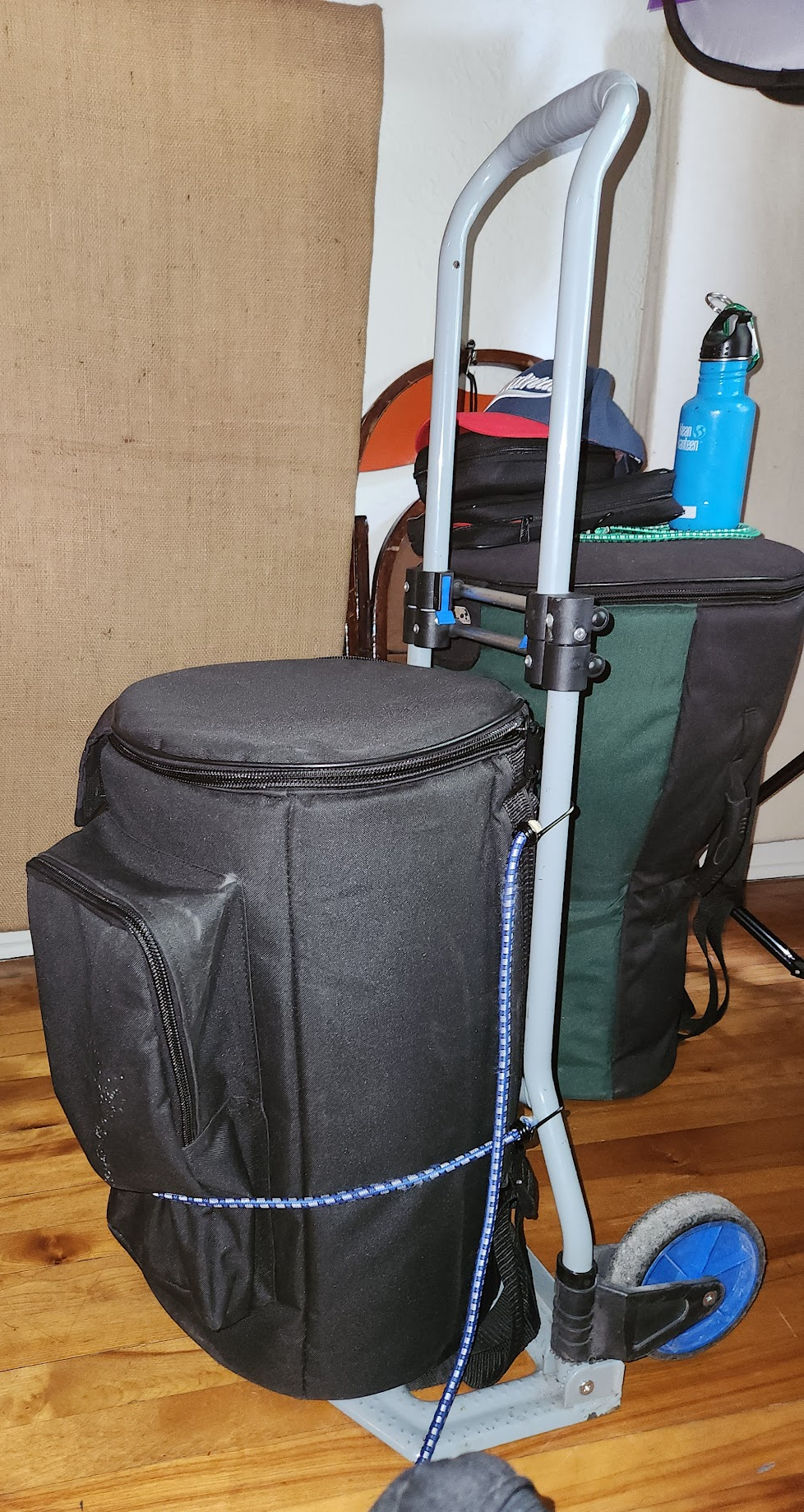 Preparation
After several hours were spent charging the batteries for the EVERSE 8, the GLXD1 transmitter, and the GLXD6 receiver, I put everything into a DrumSkull drum case and took it on the bus to Montreal's Jeanne Mance park.
BTW, mine is not a typical drum case, because it is cylindrical and has a huge pocket. I totally love it for this purpose. Nothing could be better!
The photo to the right shows the case, with the EVERSE 8 assembly inside, attached with bungees to a foldable hand cart.
I also brought my Santa Cruz FS2 guitar.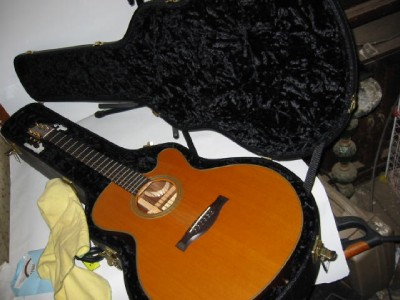 The Main Event
The statue of Etienne Cartier in the park is a gathering spot for musicians in Montreal; go there any evening and you will encounter at least one collection of talented individuals. Montreal TamTam has been held there on Sunday afternoons for decades.
Several drummers were already there when I arrived, plus a singer and some dancers. I set the everse8 on a pillar so it was 7 feet off the ground. I did not turn any knobs, not even the volume, and plugged in the guitar. Blew everyone away! ... not because of volume, but because of clear, pure sound. We jammed for hours.
Perching the PA on a pillar felt a bit precarious. Now that I have a Pyle PSTND25 aluminum PA stand, I feel more comfortable about using the portable PA in a crowded and boisterous venue, like the Sunday afternoon TamTam.
Packing Up
I always bring a headlamp. After sunset things can be hard to see, and even though one may be tired, it is important to gather all your belongings and pack them home.
Links