Published 2023-06-14. Last modified 2023-08-22.
Time to read: 4 minutes.
Ableton is based in Berlin, Germany, as is Beatport, LANDR, Lofelt/Meta, Neumann, Native Instruments, SoundCloud, and Universal Music Group. Steinberg is based 300 km (180 miles) away in Hamburg.
I need to spend time networking in Berlin.
Ableton Live
I first started using Ableton Live, version 6, in February, 2007. Now at version 11, I thought I would see if I should upgrade from version 9.
Ableton Live v10 was an upgrade targeted at Mac users, certain control surfaces and internationalization. I am not a Mac user, I do not have any of those control surfaces, and I prefer to use English, so I did not upgrade from Ableton Live v9 to v10. Version 10 also has an upgrade for Ableton Link that makes the feature actually usable, but I had no need for that feature then. (The need arose recently.)
However, many Ableton Live v11 features addressed general capabilities, and that interested me. I decided to upgrade my Ableton Live v9 Suite to the v11 Suite. The Suite gives 9 more instruments, 7 times as many sounds (75 GB!), 40% more audio effects and 2 more MIDI effects. All for $289CAD, plus the Canadian and Quebec taxes totalling $43.28. I found the upgrade experience to be very smooth.
The Ableton Live Help is one of the most user-centric, and well-thought out pages of this type I have ever seen. My hat is off to you, Ableton! Respect.
The Ableton Live Manual is avalable as HTML and PDF. I find the PDF version to be easier to work with.
Portable Recording Setup
Below you can see my battery-powered portable recording setup in action. Bluetooth speakers or PA can be used, or a variety of other connectors can be used to make sound. The old RME UC audio interface (partially hidden behind the keyboard and headphones) uses almost no power, so it runs for many hours on the blue battery.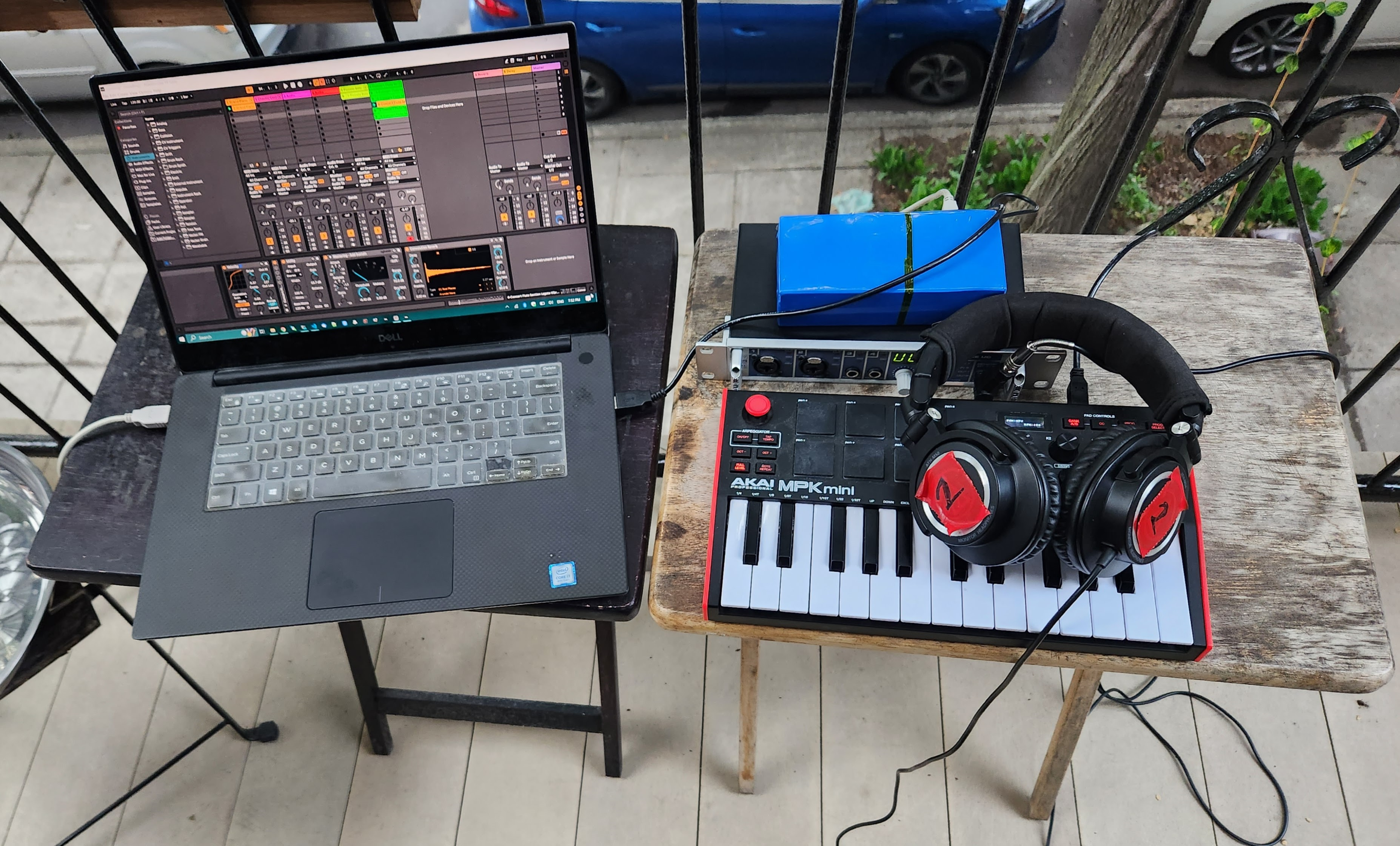 The blue battery is made by many companies in China; this one is a ABENIC Super Polymer Rechargeable 20000mAh Lithium-ion Battery DC 12V. I also use this battery to power my Shure wireless receiver when I need a wireless microphone.
This battery could extend the internal battery in my Dell XPS 15 9570 laptop, while continuing to power the RME UC, by using a 5.5mm x 2.1mm Y splitter (1 female to 2 male connectors).
I have a comment about the red and black Akai MPK mini keyboard controller in the MIDI Velocity Compander section, below.
Packing the Setup
I pack the setup, fully connected, into an SKB 1SKB-SC2311 Soft Case, measuring 23″ x 11″ x 3.75″. The SKB 1SKB-SC2311 case is terrific – light, robust, and a very good thermal insulator. It is usually easy to transfer the contents onto a flat hard surface before using them.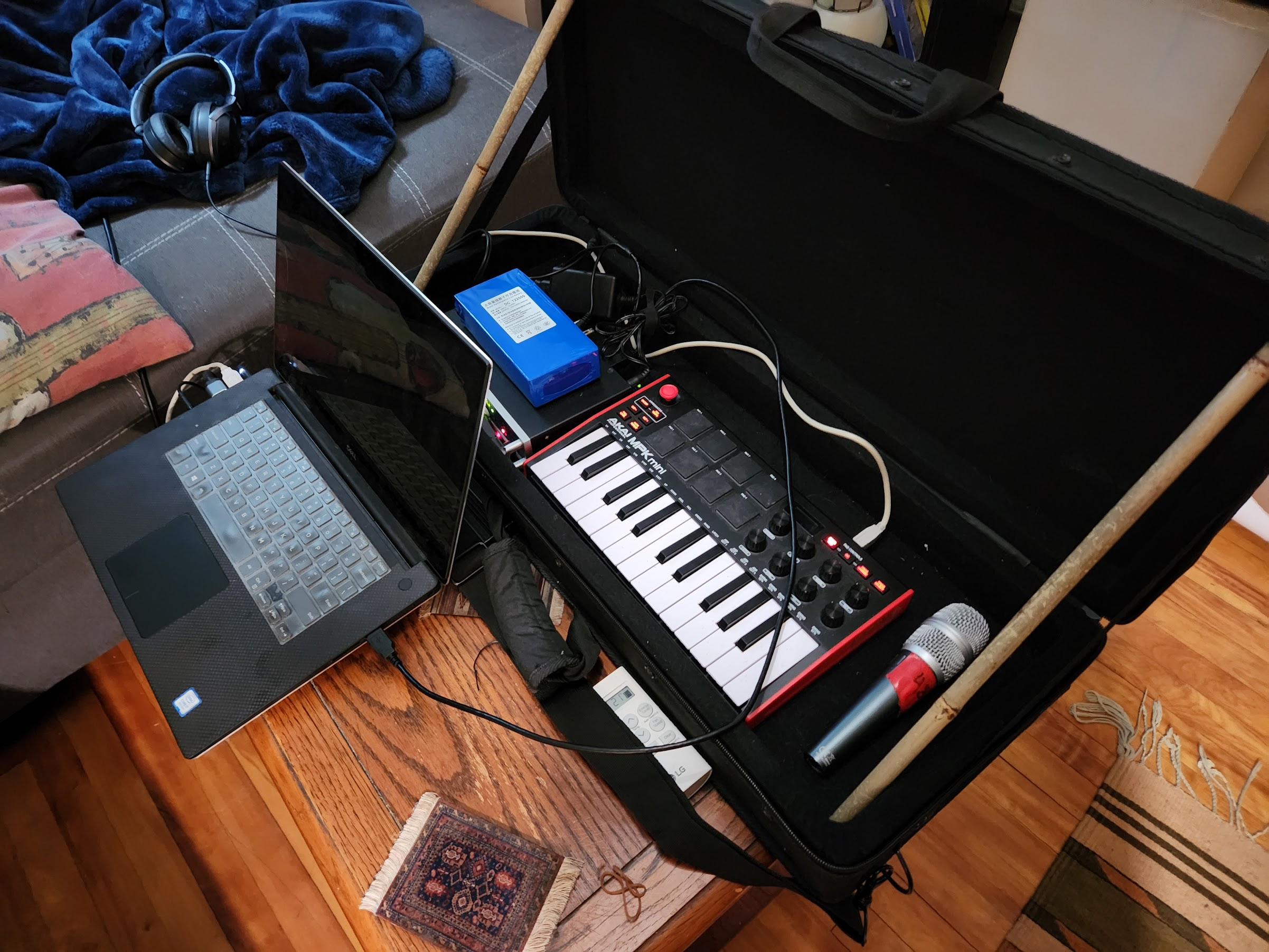 Leaving the RME UC audio interface turned on in a small enclosed space is a serious fire hazard. Do not leave the RME UC turned on while inside the case.

Always place RME audio interfaces in well-ventilated areas before turning them on.

DO NOT CLOSE THE CASE WHILE THE RME UC IS ON.

The setup in the above photo should not be turned on until the RME UC is removed from the case.

This is all true even when the RME UC is running on the battery.
MIDI Velocity Compander
The Akai MPK mini keyboard controller is inexpensive but capable. That is good for traveling, because if it is lost or damaged, replacing it is not a financial burden. Also, having two of these keyboards would allow a dedicated keyboard for each hand.
I found that the keyboard did not have a smooth transition from soft to progressively harder velocity. The keys seem to have a strongly non-linear response – this is evident when playing a note many times, so each keypress is a little bit harder than the previous keypress; the MIDI velocity suddenly increases at some threshold.
After a short search, I found Ableton Live's velocity modifier, which can act as a compander for MIDI velocity. This MIDI effect should be inserted at the beginning of every instrument effect chain that the Akai MPX mini is connected to.
The following image shows the effect chain for a Concert Flute Section Legato Vibrato instrument. The left-most box shows the velocity effect setting that I dialed in, so it acted as a compander.

It worked perfectly! I was able to play with a light touch. Subtle changes in velocity were amplified. Hammering hard on the keys did not cause problems.
The compander has completely changed the playability characteristics of the keyboard. This emulation of a much more expensive keyboard works surprisingly well. I wonder what would happen if I tried this technique on a better keyboard, perhaps a Yamaha YC61 61-key stage keyboard? Is the potential improvement asymptotic to nirvana?
Korg has been offering me the opportunity to upgrade my $125 hardware with $125 software. Surprise! I am not interested. This is a cheap instrument. No way I would spend that kind on money on a software enhancement. The keys are 3/4 size. The idea is that this is a portable, throw-away device. Not an investment.
Watch The Music Video
You can watch a video of the composition playing on the Mike Slinn Music Facebook page.
EZ Drummer 3
EZ Drummer 3 can work as a plugin with Ableton Live. You will find the EZ Drummer 3 plugin in the Plug-ins / Toontrack area.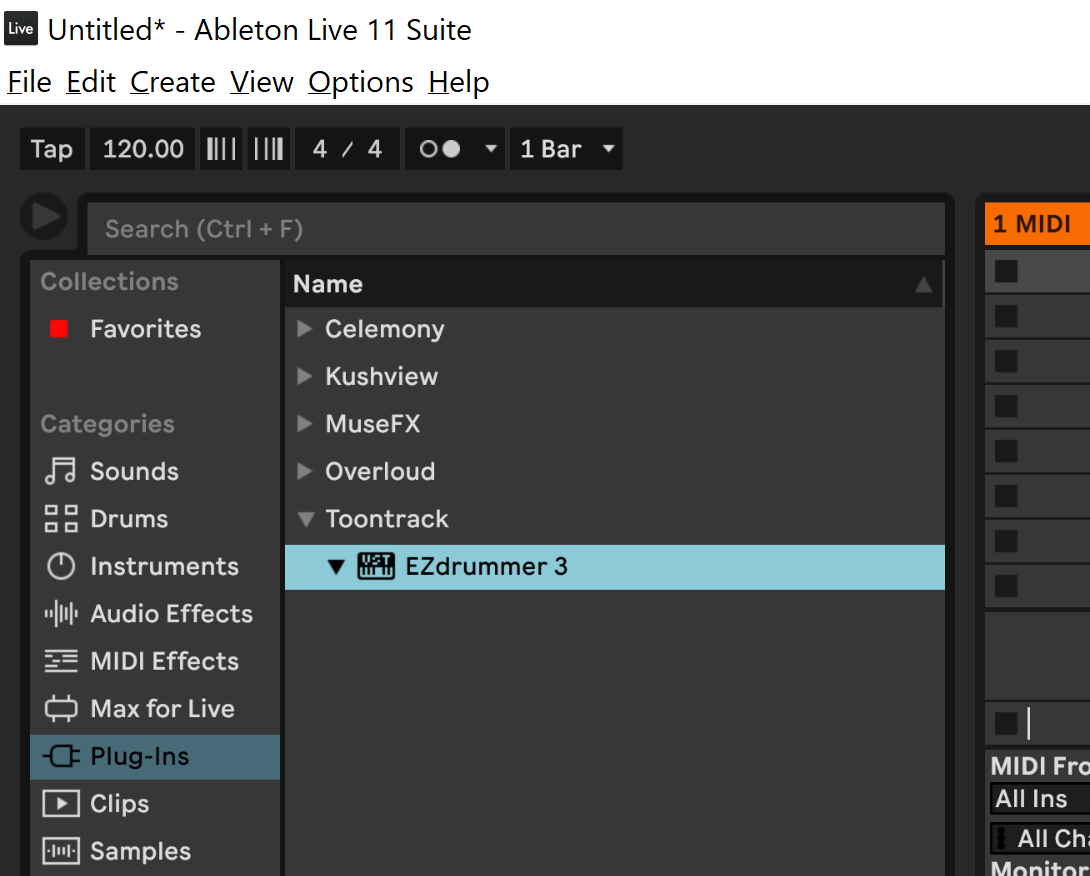 About Mike Slinn
Mike Slinn did his undergraducate electrical engineering thesis on computer music in 1979. "ARP-EM" was an ARP 2600 clone, written in PDP-11 assembly language, and used a light pen interface over realtime graphics. Mike played his Les Paul guitar into the A/D converters, then his PDP-11 assembler program processed the inputs, and the D/A converters played the results.
Music has been a big part of Mike's life ever since.